A Night at IKI Restaurant Niseko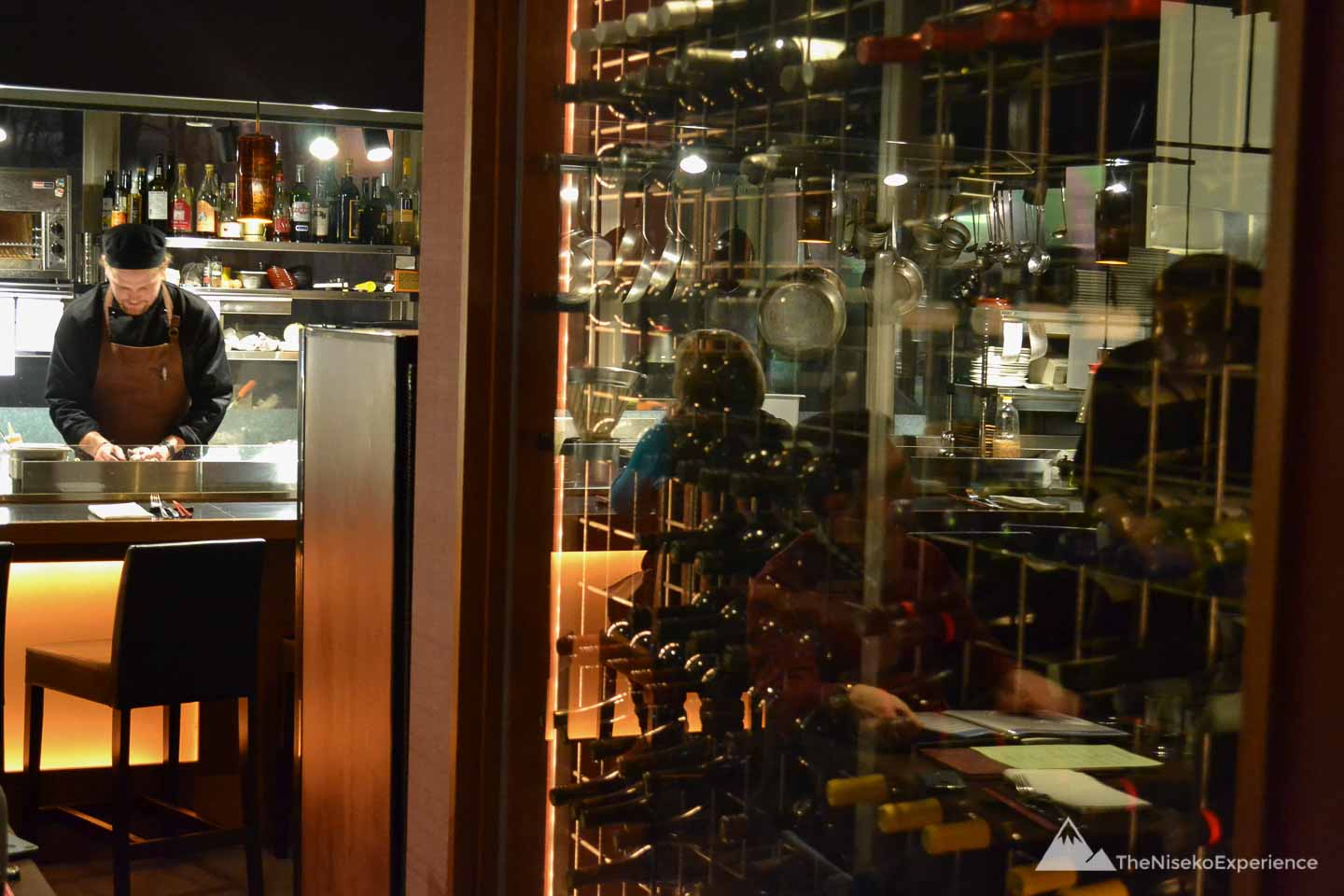 ***EDIT: IKI Restaurant no longer exists***
IKI Restaurant Niseko offers one of the most convenient dinner locations in Hirafu, without the crowds.
Not feeling the reading?  Click here for the photos!
Situated inside the Shiki Building on the main street, IKI is tucked away behind Niseko Supermarket & Deli. Here you can dine in a casual, relaxed atmosphere while you watch the snow fall outside through the floor to ceiling windows.
IKI was opened three years ago and serves an infusion of Asian & Western style foods. Head Chef Richard Robbins has put together a beautiful menu that serves up fresh Sashimi, to succulent Pork Belly, Australian Lamb Rack and Poke Tartare, just to name a few. They pride themselves on the use of locally sourced ingredients, including Green Farm vegetables and Tokachi Wagyu Rusutsu Pork.
The ambience inside the restaurant is relaxed amongst the contemporary décor. On the night we dined at IKI there was not much vibe, due to a small number of bookings. This meant we were able to enjoy our meal in a quiet, private setting. You can choose to be seated at the bar (perfect for a few Apres'), at a regular table or at the open kitchen, which is one of my personal favourites.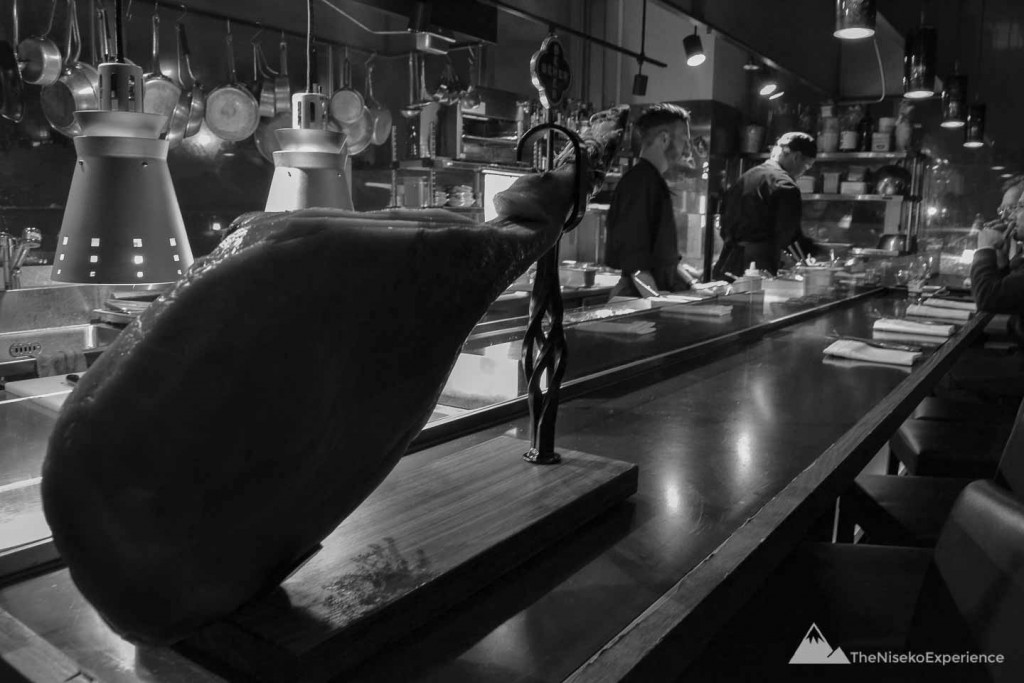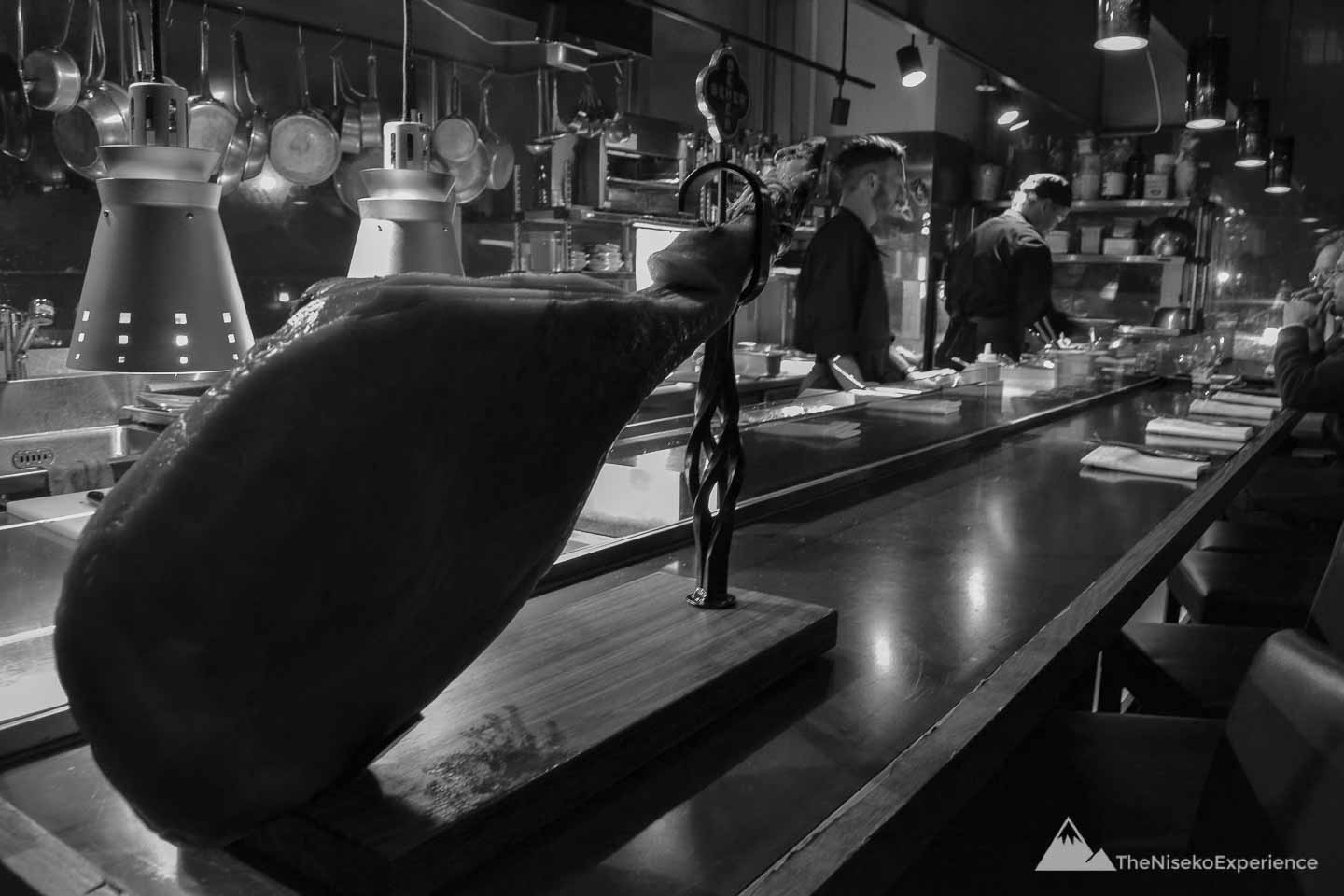 Open Kitchen and Teppan Bar
On arrival, we sat at the bar for a few après cocktail specials. Happy Hour is from 4pm-6pm each day, so I treated myself to the Orange Brulee. It was intense and flavoursome and would make the perfect alternative for dessert. Feeling slightly peckish, we grazed on the Organic Potato Cups filled with potato salad and salmon caviar and 24 month cured Spanish Iberico ham.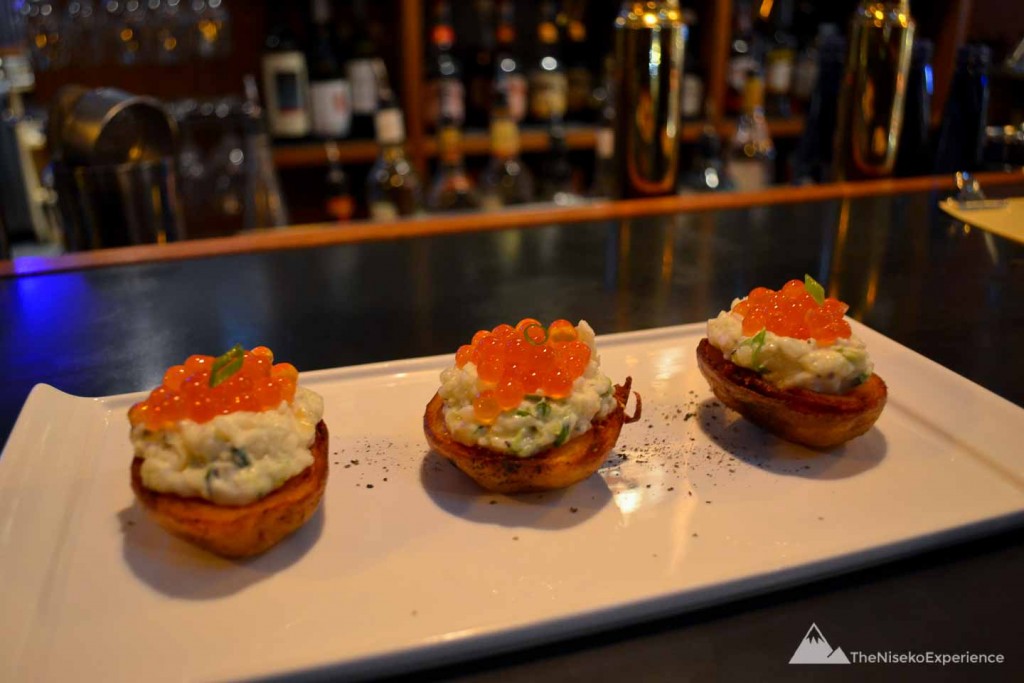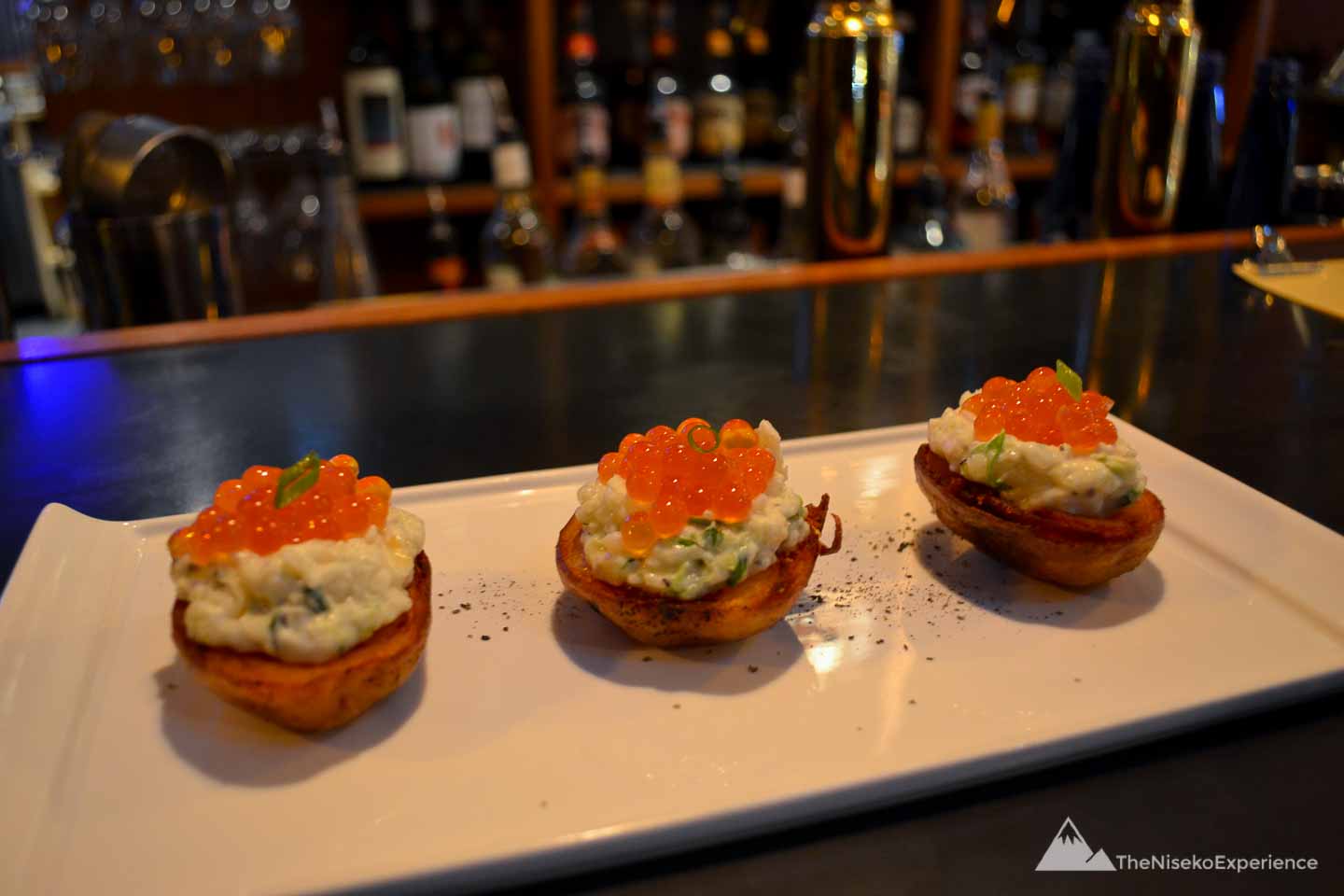 Organic Potato Cups filled with Potato Salad and topped with Salmon Caviar
Once ready for dinner, we moved to a table by the window for a little more privacy. To start we shared the Maguro Poke Tartare with Sesame Oil & Soy along with the Seared Hokkaido Scallops in Thai Red Curry & Coconut Milk. Both dishes showcased fresh quality sashimi and had their own unique flavours. The Seared Hokkaido Scallops had a little spice to them, but nothing too intense.
The real winner was the succulent Pork Belly that was served as our main. I'm not usually much of a Pork fan myself, but our waiter had recommended the Pork Belly. After the first bite, I understood why, as the rich flavours and tender meat melted away in my mouth.
To drink we started off with a glass of the house white wine and switched to the house red to match our mains. Should you want something more specific, IKI offers an extensive Wine List with wines from all over the world. Should you be indecisive like myself, chat to the friendly staff for some personal recommendations.
Alternatively, you can choose to sit at the open kitchen Teppan Bar and watch as the chefs work to create your mouth-watering masterpiece. A personal favourite is to sit and watch the Robata style Irori Barbeque. Watch as the Teriyaki Salmon is charcoaled over specially sourced wood from Laos. The seafood is cooked over the burning wood, which gives it a unique flavour.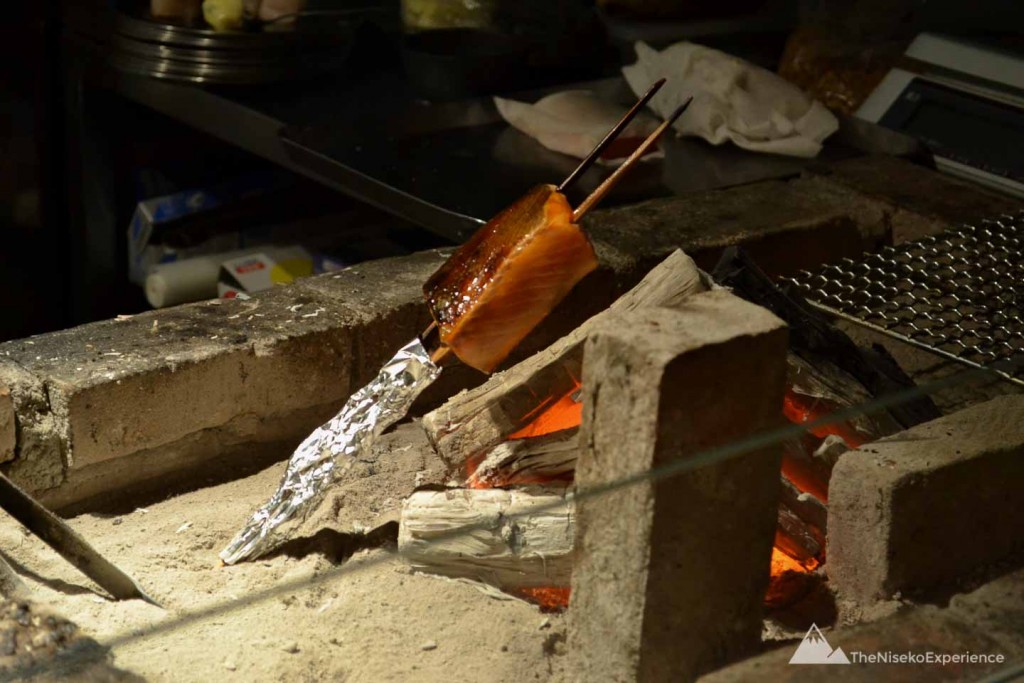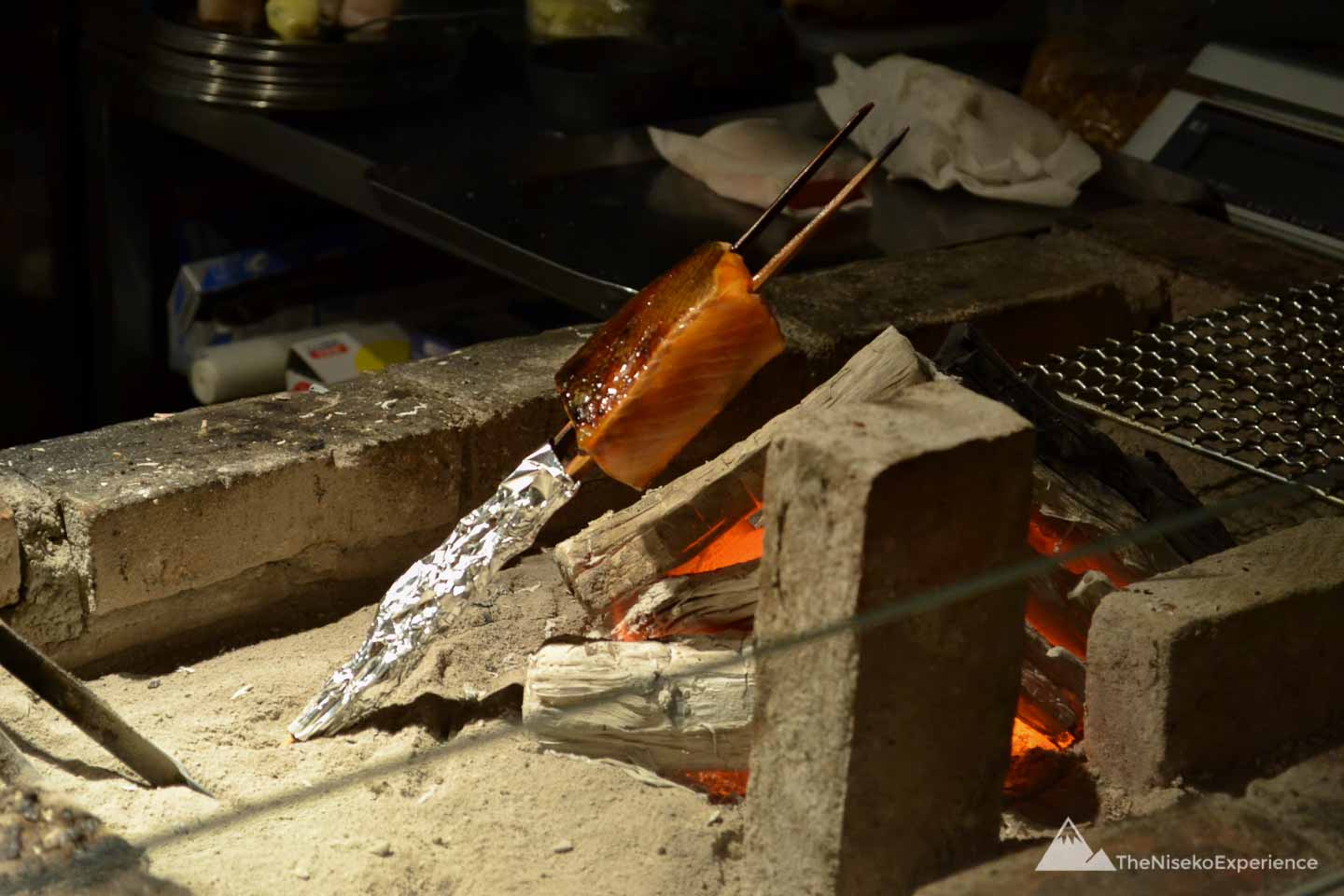 Salmon with Ginger Teriyaki Glaze cooking over the Irori BBQ
After the Pork Belly, there wasn't much room left for dessert. The Yuzu Sorbet was suggested to us and it was the perfect final touch, providing a light yet sweet and lasting taste.
IKI left a lasting impression and it was hard to fault. IKI is well suited to those looking for an Asian-western infused meal. As expected with quality food and service, comes a premium price tag. However, we found it to be reasonable when considering food, quality and the impeccable service of all the staff.
Personal Recommendations:
Entrée: Maguro Poke Tartare
Main: Pork Belly
Dessert: Yuzu Sorbet
Cocktail: Orange Brulée
Not just for Apres' or Dinner…
IKI Restaurant Niseko is the perfect place to start your day with delicious coffee or a big breakfast. With floor to ceiling windows, you can arrange your day's plans as you scope out the unpredictable Niseko weather.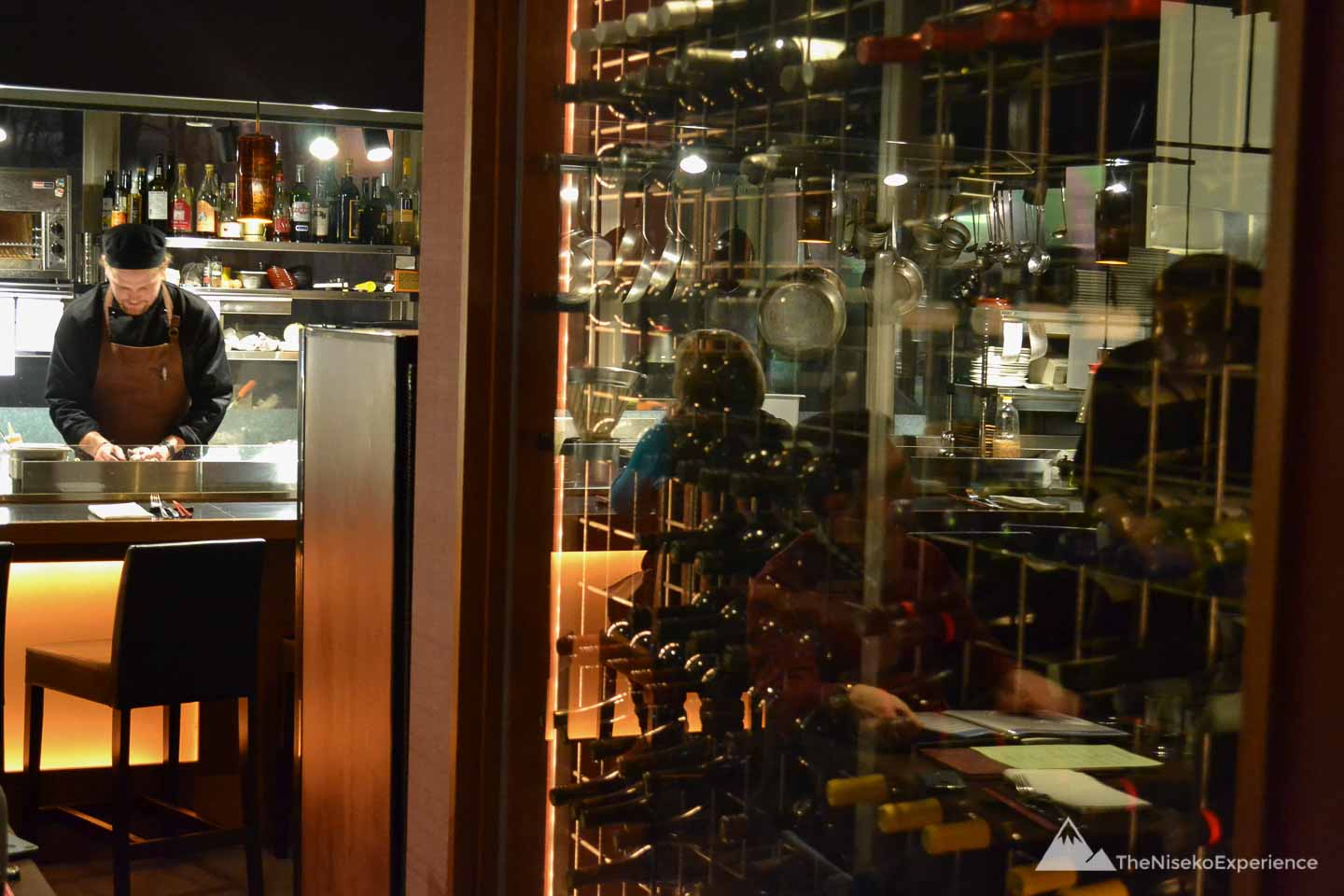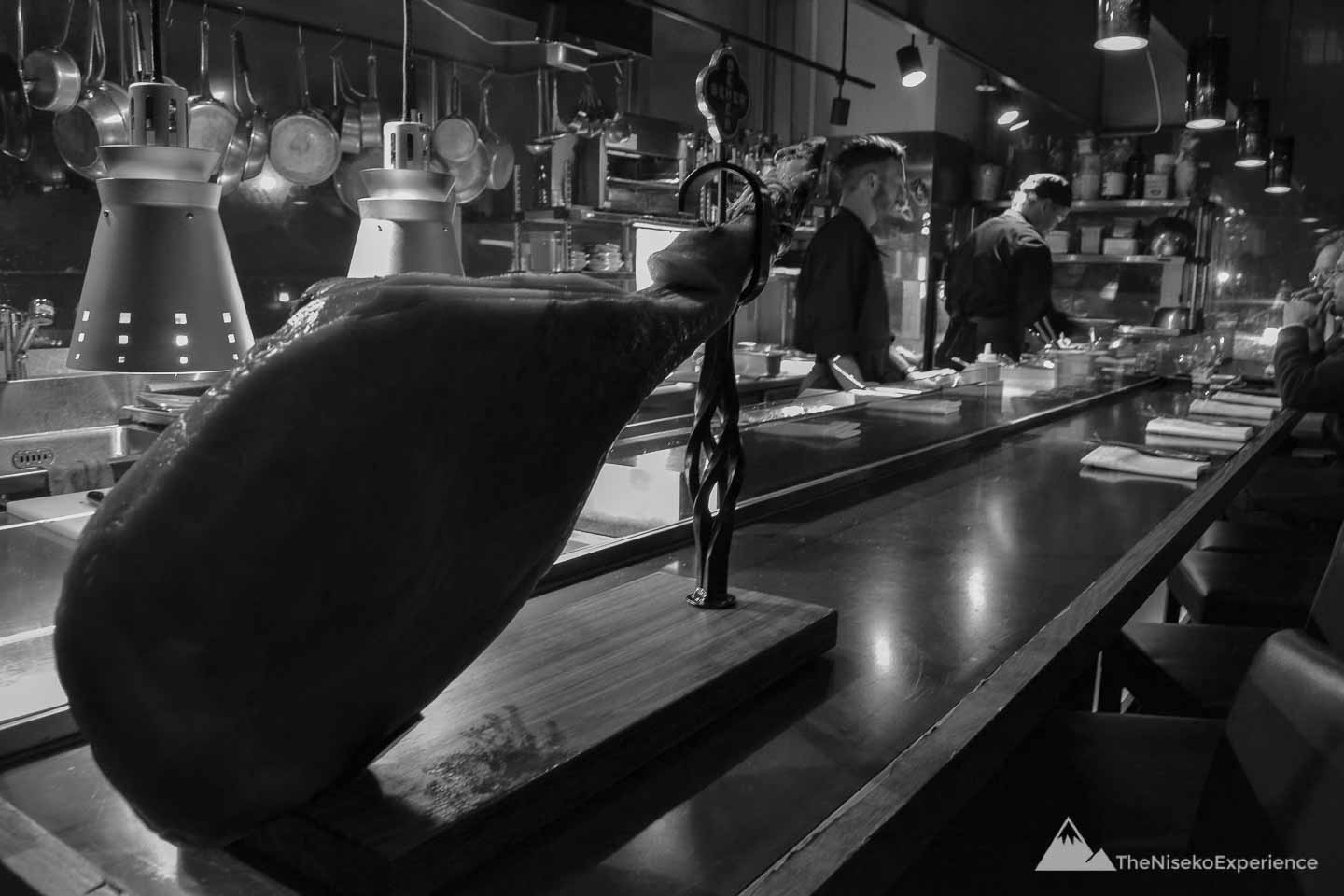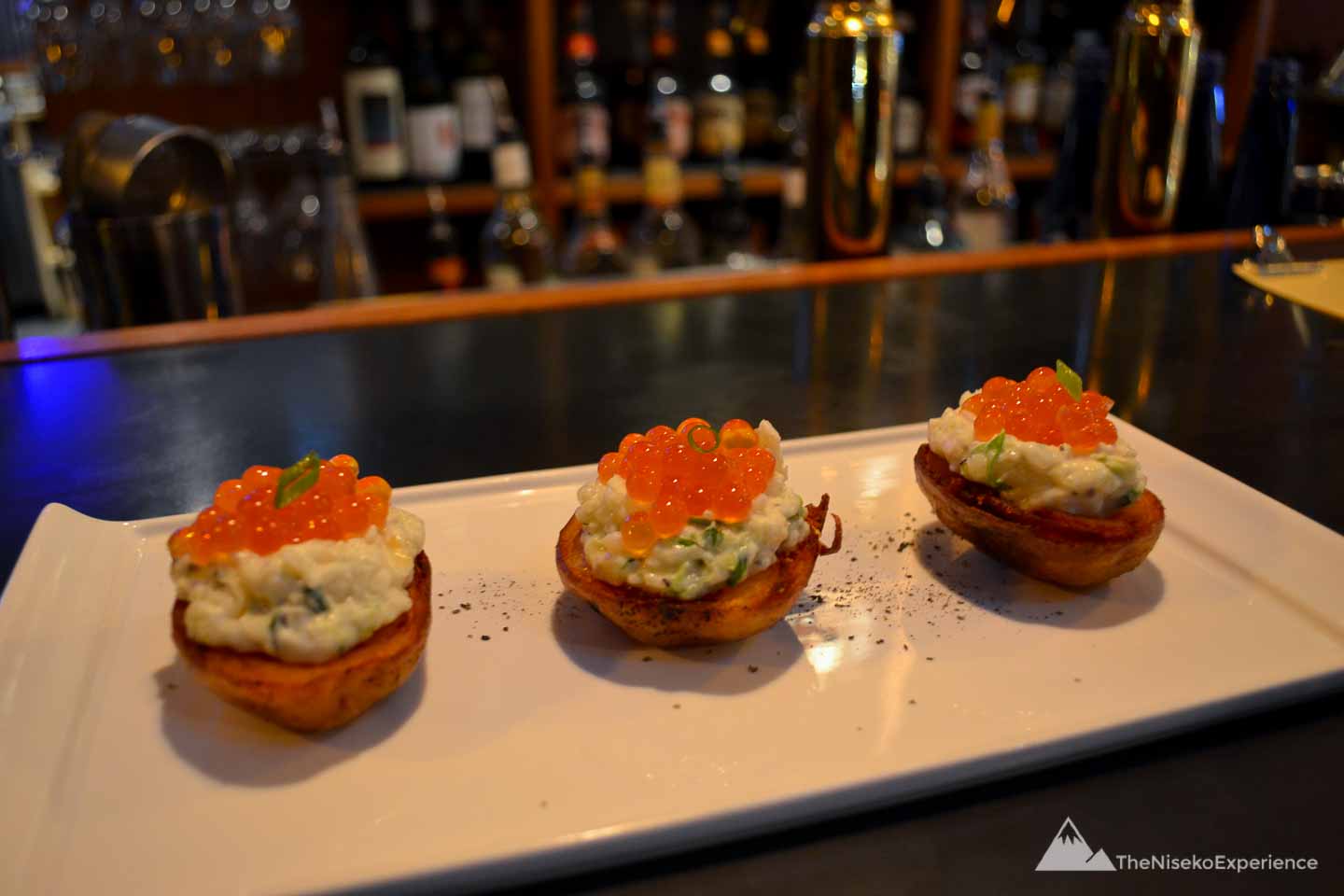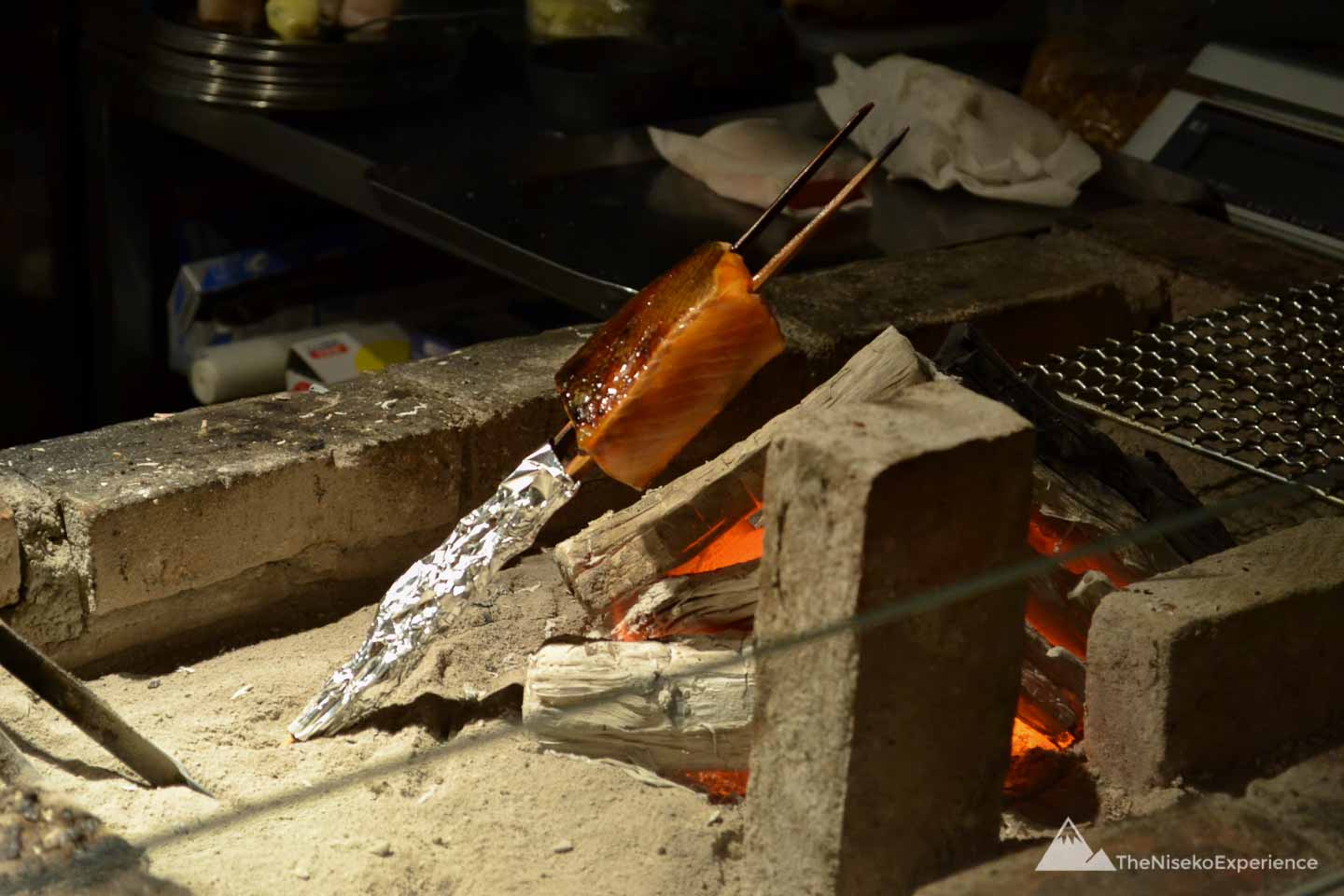 IKI Restaurant Niseko
SHIKI NISEKO 1F 1
90-4 Aza Yamada, Kutchan-Cho, Abuta-gun, Hokkaido 044-0081
Phone: 0136-55-8114
Email: [email protected]
Breakfast   7:30 - 10:30
Cafe            7:00 - 18:00
Bar             16:00 – Late
Dinner       18:00 - 23:00