The region's legendary deep powder unlocks a huge array of exhilarating Niseko winter activities. In Hirafu, Hanazono, Niseko Village and Annupuri, the possibilities are abundant, from beginner to advanced ski & snowboard lessons, exhilerating heli skiing, adventurous cat skiing or a day exploring fresh powder on a guided backcountry tour. For non ski & snowboard activities, why not try a snowmobile or snowshoe tour. Check out these ideas to supercharge you next Niseko ski holiday.
Private Lessons
from ¥40,000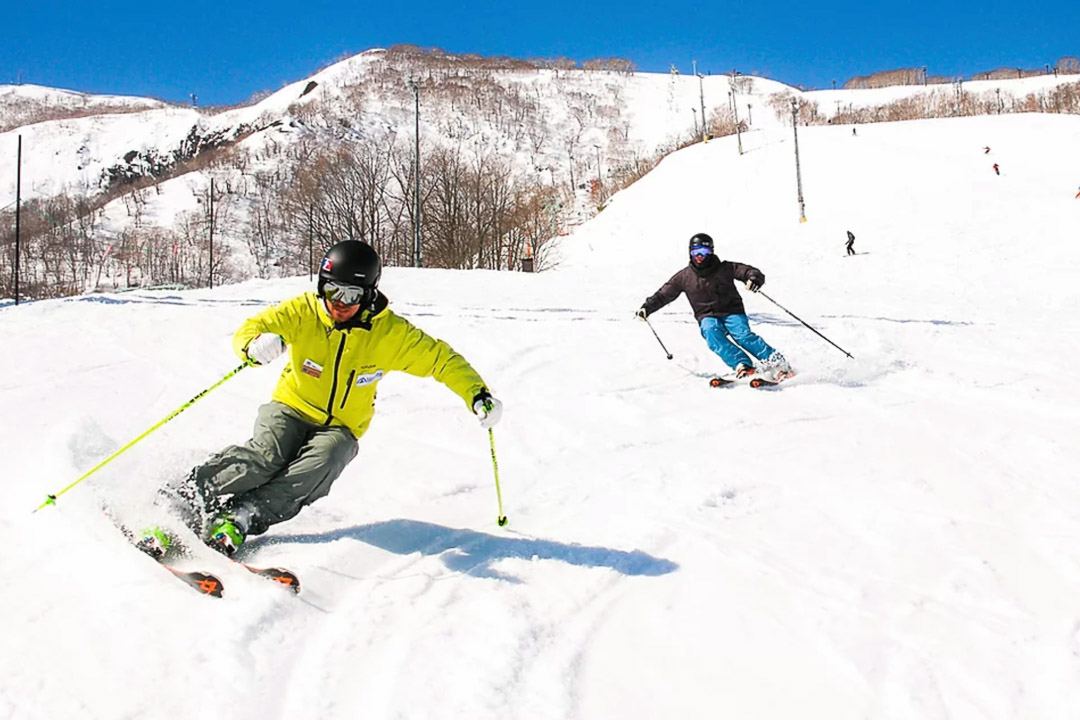 On a short winter sports break, time always seems to fly by way too quickly. Enjoy a faster learning curve with one-on-one tuition dedicated to your own personal needs for either skiing or snowboarding. Whether you're just starting out for the first time or you want to make the quantum leap from groomed runs to challenging sidecountry deep powder runs, private lessons are a good bet. Flexible individual attention will quickly boost your skillset and confidence.
Discover Winter can match you to the right qualified instructor based on your experience level and goals. Our top recommendation, Hokkaido Collective offer the most qualified instructors at every level for all ages, with full and half day customised lessons, transport, and day trips to surrounding resorts such as Rusutsu and Kiroro. Trust breeds confidence so we match you with a compatible instructor based not only on your skill level but your personality too.  Instructors are also local experts, able to enhance your experience with local insights on where to find the best snow for the current weather conditions, as well as tips on the best places to eat and how to avoid the crowds.
Group Lessons
from ¥16,000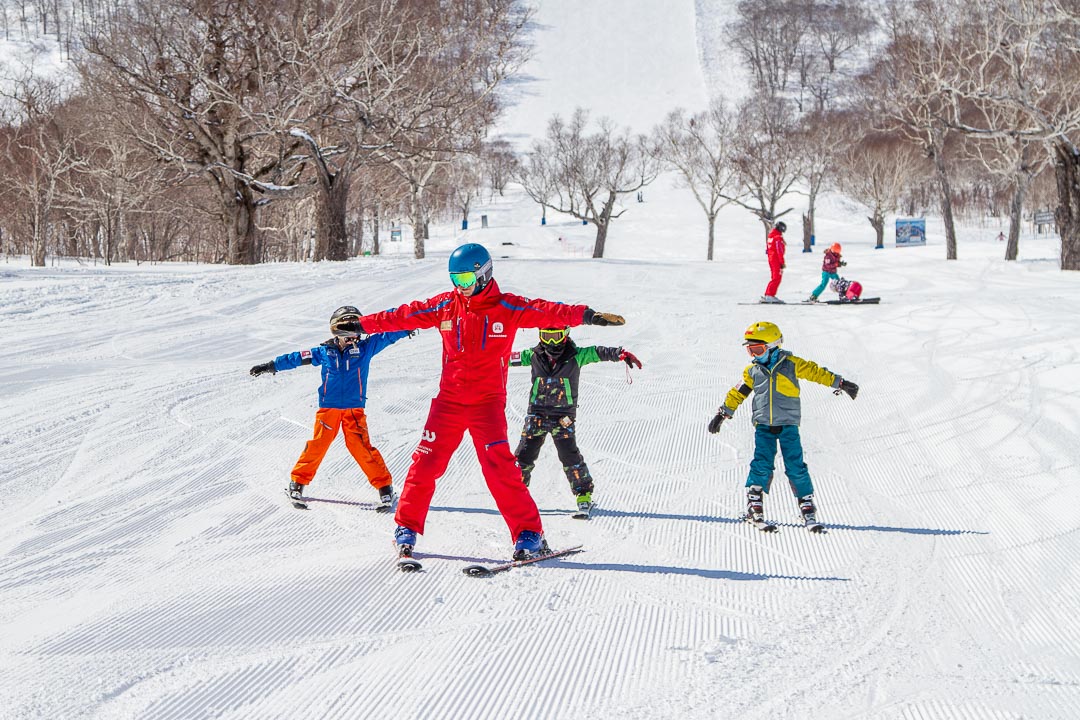 For your first ever taste of skiing or snowboarding we recommend initial one-on-one private lessons to learn the basics quickly before embarking on group lessons. Many people thrive in the shared experiences and social vibe of a group setting where you'll meet the challenges and grow in confidence together. Our top recommendations, Niseko International Snowsports School (NISS) & Niseko Base Snowsports (NBS) have a range of multi-day lesson packages for all levels and ages, which even allow the option to switch between ski and Niseko snowboard lessons.
Choosing the right type of ski instruction to get the most out of the days on snow is critical. We are passionate about making snow sports accessible and enjoyable for all. Whatever your current skill level, we'll match you with the most suitable instructor and product to suit your goals and desires. Contact us now.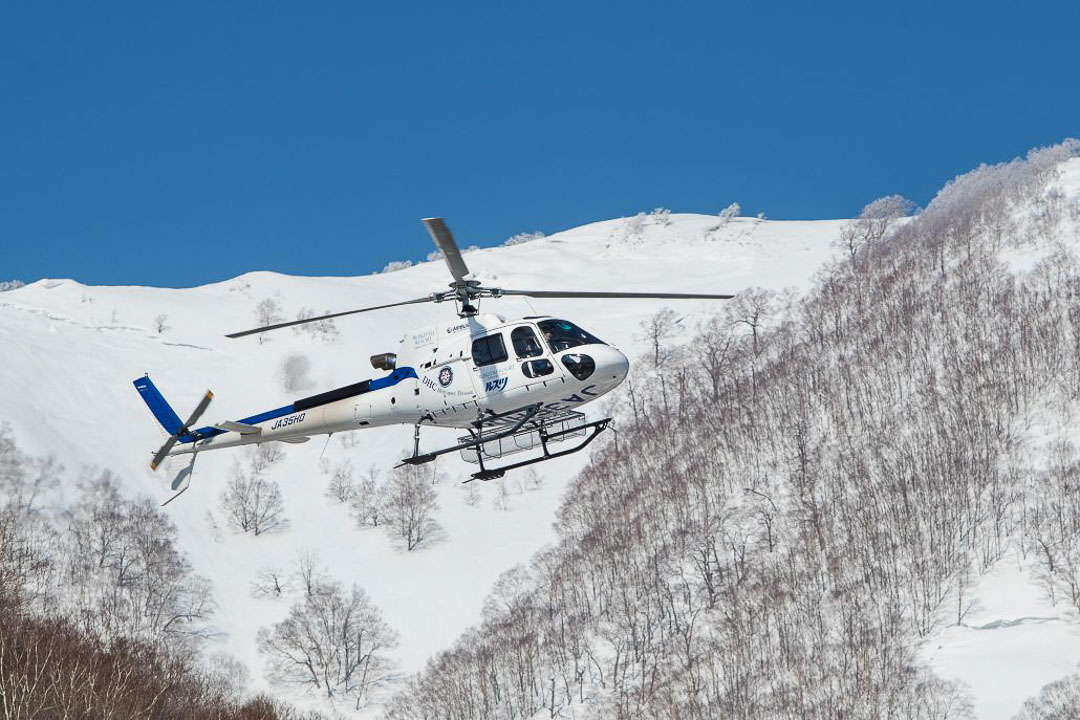 Reach peaks far from the resort crowds for the ultimate experience, exploring pristine backcountry terrain in dramatic scenery. Heli skiing gets you on run after run of fresh powder snow. The Shiribetsu-Dake Heli Ski zone reaches 1,107 metres offering up to 850 vertical metres of perfect powder conditions through trees, steep chutes and challenging gradients. Award-winning Hokkaido Backcountry Club offer group, custom or private tours that include up to six runs with a Niseko powder guide, a safety briefing, equipment, lunch and complimentary transport from/to local accommodations, starting from ¥160,000 per person.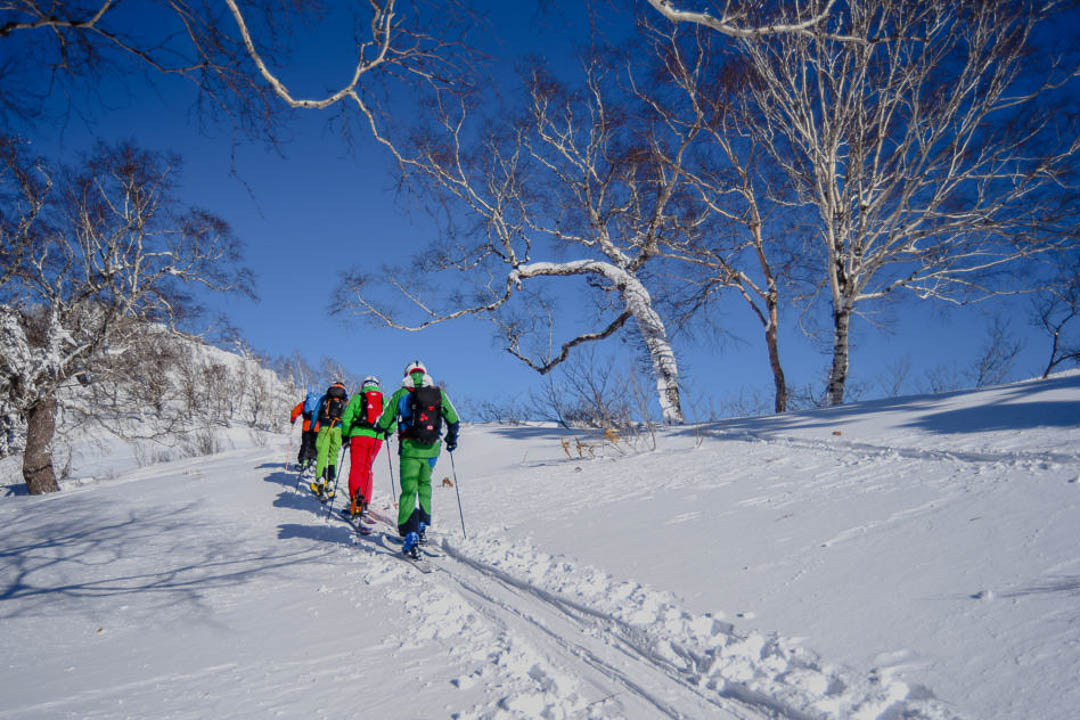 Taking it up an extra notch, there is nothing better than the adrenaline buzz of faceshots of fresh powder on untracked snow without waiting in a lift line. Experience the adventure and enjoy the serenity away from the crowds on either a lift assisted or backcountry touring day. Local knowledge is key, and we'll source the right experienced guide able to safely find the lines in the best conditions for your level.  For the most qualified Niseko powder guides, we recommend Hokkaido Collective or Hokkaido Backcountry Club. Enjoy a buzzing day on pristine powder runs from ¥66,000.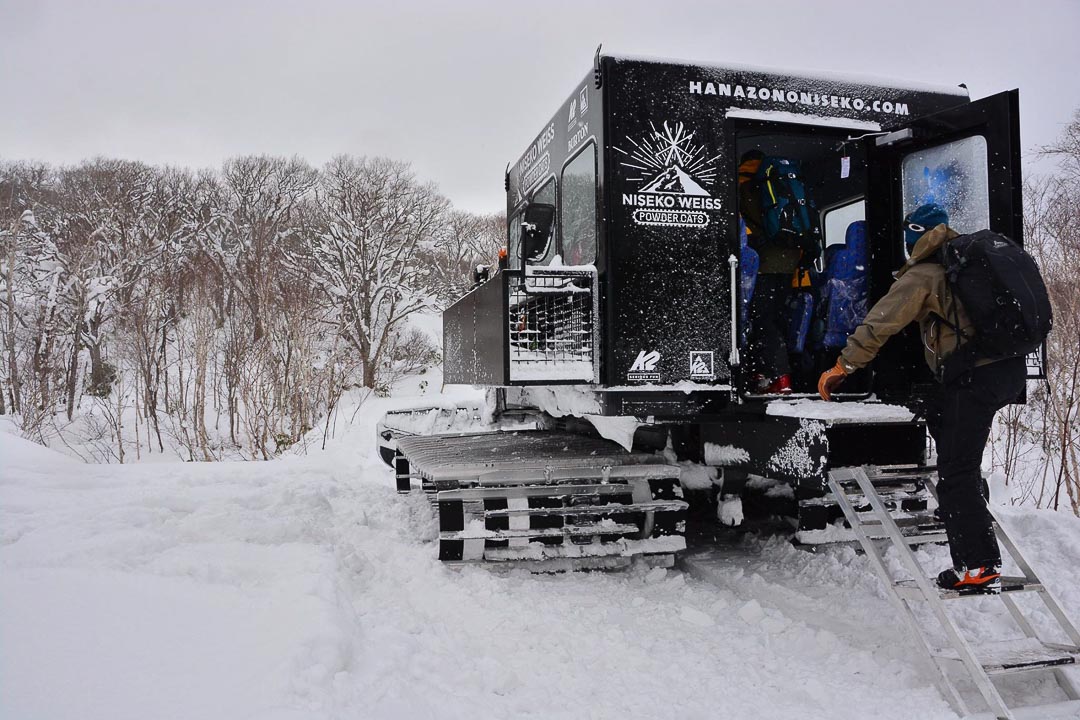 So you've experienced Niseko's groomed runs and enjoyed a little sidecountry skiing. The region's untouched backcountry terrain showcases Niseko's epic powder and there's no better way to experience it than by cat-skiing. This is backcountry exploration at its most alluring for ski junkies. A day of cat-skiing unlocks a vast area of backcountry terrain and the chance to get far away from the crowds.
Adapted snow cats can effortlessly manoeuvre up steep slopes to drop you off at the top, while you are guided down through the treeline on fresh virgin powder. It's a less tiring and more productive alternative to conventional backcountry touring, and cat-skiing operates in almost all weather conditions, unlike heli-skiing.
You can ski untouched lines all day long at Iwanai Resort, where you'll get the opportunity to experience six to nine runs per day, including wide-open old runs and steep bowls. Experience a day of deep powder skiing against the backdrop of the ocean from ¥80,000 per person with Iwanai Cat Skiing.
With Niseko Weiss Powder Cats you can enjoy exclusive use of Mt Weisshorn from ¥50,000 per person. Starting with a pickup from your luxury Niseko accommodation, up to 12 guests enjoy a day of guide-assisted cat skiing on diverse terrain with long, deep runs perfect for intermediate powder skiers and snowboarders.
TIP
Choosing the right off-piste experience can be a difficult choice when visiting in an unfamiliar region. We are passionate about making powder experiences accessible and enjoyable for all. Whatever your current skill level, we'll match you with the most suitable product and backcountry guide. Contact us now.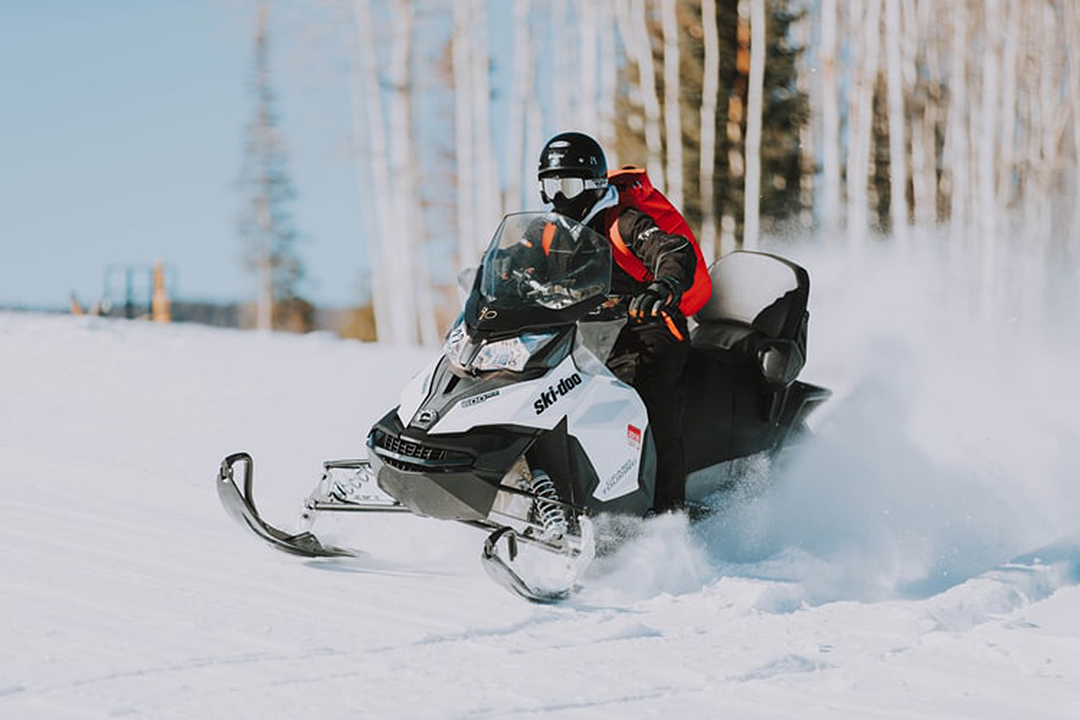 There is no better way to explore Niseko's powder trails than on a high-octane snowmobiling adventure. Hop on a lightweight snow machine and ride through the unspoiled terrain of forest trails and rolling powder fields. Experienced guides at Hanazono Niseko lead you on tours unlocking awesome views in Niseko. Choose from single or tandem rides. One of the most rewarding Niseko winter activities for families or beginners, snowmobiling is a perfect introduction to Niseko's renowned backcountry terrain, and priced from ¥8,500 per 30-minute snowmobile ride.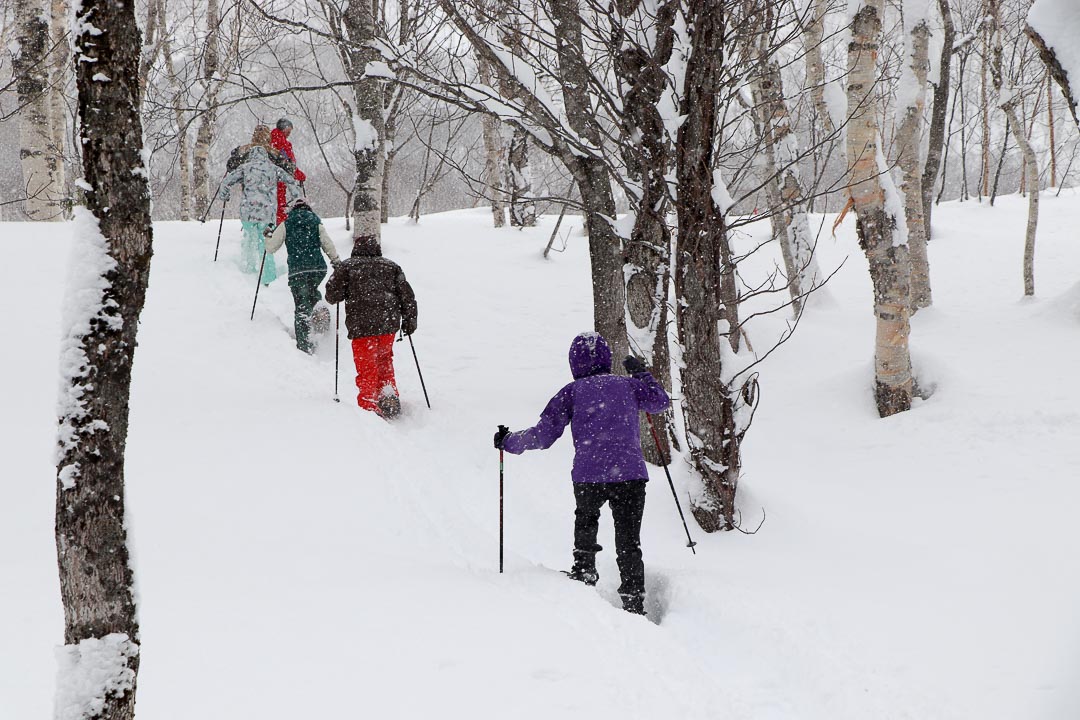 Great fun and a relaxing pursuit for all, explore the Niseko terrain at your own pace on a snowshoe tour. Take a break from Niseko snowboard lessons and embark on an intimate journey in small groups, where you'll feel close to nature on snowy forest trails. Experience a different world away from the crowds amid peaceful scenery. We recommend an easy-going one-hour tour with Hanazono Niseko or hire an experienced guide at Hokkaido Collective for a half day adventure on our top recommended tour around Hangetsu (Half Moon) Lake. Prices start from ¥4,000 per person for a one-hour group tour.
TIP
Choosing the right ski instruction or off-piste experience can be daunting. We are passionate about making snow sports accessible and enjoyable for all. Whatever your current skill level, we'll match you with the suitable instructor, backcountry guide, package and products. Meeting your needs and aspirations, we'll personalise it all for a truly bespoke holiday. Contact us now.